The Rainbow Riches Family
Here at CloverCasino.com, we host the very best Irish-themed online slots ever created. They come from many different online slot developers and play in many different ways.
Some of them are targeted at traditional slot players. Some of them are for those who love the latest modern bonuses and additional features. Some of them are bright and colourful, and some of them are hyper-realistic.
Whatever type of Irish-themed slot you're looking for, there's one series of slot games that offers every possible playing experience under one barrier.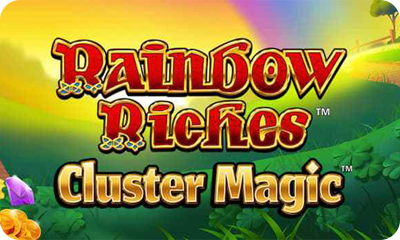 Play Rainbow Riches Cluster Magic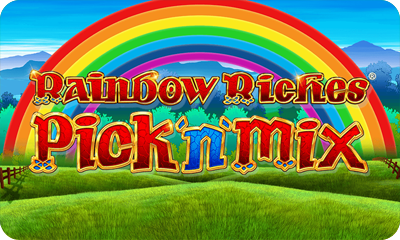 Play Rainbow Riches Pick 'N' Mix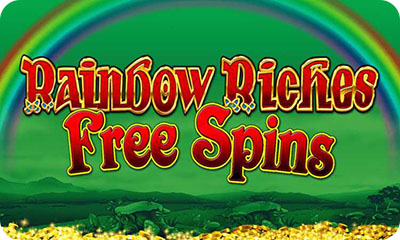 Play Rainbow Riches: Free Spins
Rainbow Riches is one of the best known online slot games in the world, especially amongst UK online casinos.
This game is as colourful as it sounds as Rainbow Riches plays on the Irish theme and on the pot of gold that waits at the end of the rainbow.
You better hope that any leprechauns you cross are willing to share any potential winnings, as with the chances to rack up some free spins via unlocking the bonus feature, there's a chance that the pot might be quite full.
The Rainbow Riches Slot Series
In the world of entertainment, success usually spawns sequels. So, if you have a smash hit with a one-off movie, you might find yourself holding the keys to a brand new franchise if people clamour for more films starring the same characters.
A well written, popular book may find an audience, and build a following who might just ask for more – just ask J.K Rowling about that! Some video games can return for sequel after sequel. That's why we're well into the 21st Century, and we still see new titles starring our favourite characters.
The same can also hold true for games that operate within the online casino and slot world. Come up with a great concept that people enjoy playing, and you might be asked to create a follow on game using the same ideas.
One such online slot title is 'Rainbow Riches', which is a firm favourite of UK players, and has so far been followed by no less than eight sequels, all of which bring their own unique twist on the original. Here's our guide to the 'Rainbow Riches' family of games!
Ever since veteran slot game developers Barcrest released the first ever Rainbow Riches game back in 2005, it's been played and loved by millions around the globe.
The name value of Rainbow Riches now exceeds that of the people who made it; walk into any amusement arcade around the United Kingdom, and you'll see the leprechaun mascot of Rainbow Riches almost everywhere you look, inviting you to come and play the latest version of the game on a physical slot machine.
Fortunately, you don't have to go out of the house to play the best slot games in the series, because they're all here!
The massive popularity of the original Rainbow Riches game led to a demand for a sequel. When players loved the sequel, they came back and asked for more.
Barcrest and their parent company, SG (Scientific Games) - now known as Light and Wonder, have been more than happy to keep giving the people what they want, and for the last few years, we've seen at least one new Rainbow Riches slot hit the market.
All of them have something about them to differentiate them from what's come before, and they all have a sparkle of brilliance that can make them stand out from the crowd.
If you're completely new to Rainbow Riches, you're in for a treat. Whichever game in the series you're playing, you'll be thrown into the bright and bold world of the friendly leprechaun, surrounded by the green scenery and rolling hills of Ireland.
Expect to see rainbows arch in the sky above the reels. Then, prepare yourself to search for gold pots and the end of that rainbow. Keep your eyes peeled for a fairy who might appear out of nowhere and cast a spell on your reels.
More than any of that though, look forward to playing some of the most innovative bonus features that have ever existed in any online slot.
The Rainbow Riches series is legendary to slot game players for many good reasons. To give you a better understanding of that, let's talk about all the different games one by one.
You can read through the descriptions, choose the one that sounds like the most fun to you, and then play it here, at Clover Casino.
Rainbow Riches: Original (2005) – 95% RTP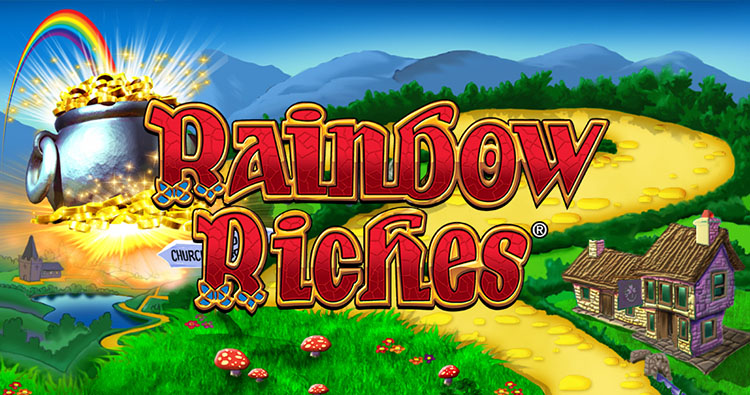 There is no franchise without a solid foundation, and that's what the original 'Rainbow Riches' game provides. Designed by Barcrest, who, as the name suggests, had a long history of making physical fruit machines for use inside pubs before they migrated online, the game takes elements from Irish folklore and brings them to life in full colour.
It's a fun, tongue-in-cheek gambling experience with plenty of froth and vibrancy. It may tick off quite a few of the 'Irish stereotype' boxes, but it does so lovingly.
Embrace the luck of the Irish and try your hand at our Rainbow Riches classics. No online casino games UK catalogue would be complete without the familiar face of the game's leprechaun mascot, but we've gone one step further – we offer many of the Rainbow Riches games!
With the original Pick 'N' Mix and Free Spins variants to choose from, you can mix up your Irish slots experience as you see fit. So, hit spin and see what you can potentially win!
Play Rainbow Riches Mobile Slot
The three-row, five-reel setup is familiar and accessible, and twenty paylines is a good number for a layout of that size. The bonus features truly bring the game to life, though.
Landing three of the leprechaun scatter symbols will trigger a 'Road to Riches' bonus, which has the chance to be very literal; it takes you to a virtual road full of possible multipliers ranging from 1x up to 500x.
The longer you can stay on it, the higher your multiplication factor will go. The 'Wishing Well' and 'Pots of Gold' bonus rounds can also reward you with potential multipliers ranging from 2x up to 500x. However, each feature has a different theme that can keep the game feeling fresh and interesting.
Combined with a jaunty soundtrack that plays in the background, this is a good, clean, fun gaming experience that offers plenty of chances to win, and doesn't try to trick you.
Who would have thought this humble online slot, released in 2005, would be the foundation stone of a whole gaming empire? Aside from the dayglo-bright colour scheme, there's nothing about the layout and basic offerings of this slot that suggests it would go on to be special. It's a 5×3 layout with twenty fixed paylines and a RTP of 95%.
That's the same description that could be applied to literally hundreds of slot games, some of which had an Irish theme, and none of which went on to be famous. So, what was it that made the first Rainbow Riches slot game so special?
Rainbow Riches Slot Features
The answer is 'the bonus features'. The extra features on offer in Rainbow Riches could stand up against almost anything that's been released in the past twelve months.
For the time the slot was released, they were considered revolutionary. There are three of them in total; a 'wheel of fortune' feature called 'Road To Riches', where the spin of the wheel can propel your leprechaun friend along a golden path, potentially accumulating multipliers for you as he goes.
Then, there's the prize-picker round, which the slot called 'Wishing Well', where you choose a well for the leprechaun to go searching in, and he'll come out with a multiplier for you. The best thing here is that there's no trickery; even if you choose the least lucrative of the wells, you'll still come out with a multiplier of some kind.
The spirit of generosity within the slot forms part of its appeal, and is one of the reasons players continue to come back year after year.
The final bonus the slot offers is 'Pots of Gold'. Anyone who knows the story about leprechauns and rainbows knows what should be hiding there! This is another prize picker round, where the Rainbow Riches leprechaun mascot will tip out the contents of a pot for you and give you the multiplier that's hiding inside.
In some respects, the bonuses are just three different ways to give you multiplier prizes. The key to the appeal is that they're different games, so they make the slot feel more varied.
Combine that with the cheeky way in which Rainbow Riches approaches its Irish subject matter, and you've got a very endearing game on your hands. That's how players felt about it at the time, and that's why it still gets played on a regular basis today, nearly twenty years down the line.
Rainbow Riches Pick 'N' Mix – (2016) – 94-96% RTP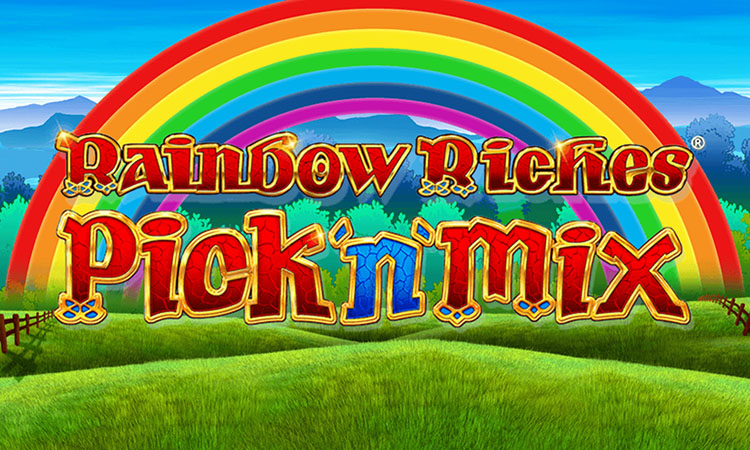 Play Rainbow Riches Pick N Mix Now
This is like a medley of the whole very popular Rainbow Riches family, bringing together aspects of all of them in a typically well-designed and colourful layout. In this game you can choose your own bonus features.
Select up to 3 bonus rounds to be triggered in the game, or maybe just select one to make it trigger even more often.  You can reset the bonus features anytime you like when playing the online casino game and change the bonus features.
Why choose between the titles when you can take a little from all of them and blend them as one? 'Rainbow Riches: Pick and Mix' tries to strike a balance between the other distinct offerings in the range, keeping the simplicity of the original title in terms of the number of reels, rows and paylines, but adding in some of the fun that the more sophisticated bonus features can offer.
You can even tailor the game to suit your preferences by selecting which bonuses can be available before the game even starts!
Both the 'Road to Riches' and 'Pots of Gold' bonuses from the beloved original are here, but 'Free Spins' has been added, along with 'Cash Crop' and 'Magic Toadstool', which offer both multipliers and prizes, and the 'Big Bet' feature from the 'Reels of Gold' game.
You can either make fewer bonuses available and have more chance of them triggering, or put up to three in play and enjoy a more varied gaming experience. Play the game to suit your mood and taste!
Play Rainbow Riches Pick 'N' Mix Mobile Slot
When Barcrest decided they were going to release sequels to the original game, they had to have a conversation within the company about how to approach it. Did they make something very close to the original slot game? Did they do something drastically different? Massive changes ran the risk of alienating the original base of players, but staying too close to the original would look like they were releasing a clone of the original.
Possibly with that in mind, they decided to release a number of sequels with a number of different themes. Rainbow Riches Pick 'N' Mix was the sequel that went big with the bonus offerings.
Upon loading the slot, you won't see huge differences between this and the original Rainbow Riches; it's a 5×3 layout again, and if anything, the visuals are a little simpler. That's because many of the base game's symbols have been removed from the reels to allow for more bonus symbols.
Just as the fun of pick and mix sweets allows you to decide exactly what you want in your bag, Rainbow Riches Pick 'N' Mix allows you to choose your own bonus features, so you can play the slot however you'd prefer to play it.
Pick 'N' Mix was released in 2016, so we'd expect to see more in this slot than we did in the original, but even taking that fact into account, this is an impressive offering.
There are five bonus features available within Rainbow Riches Pick 'N' Mix, of which you can choose a maximum of three to have in play at any one time. You do this by selecting the symbol associated with the bonus before the game starts.
Don't worry if you get bored of the bonus when you've played it a couple of times though; in between spins, you can go back to the bonus selection screen and chop and change, pulling one bonus out and substituting in one of the unused ones.
You could even choose to leave four of them out if you wished and play with one, thus potentially improving your chances of triggering the bonus. As this slot is all about the bonus offerings, though, we feel like that would be missing the point.
A couple of the bonuses will need no introduction to anyone who's played the original Rainbow Riches (and if you haven't, that's where you could start). That's not just because it can give you a better appreciation of the series as a whole; it's also a really great slot game! Road To Riches is the first such feature.
Just like it did in the 2005 game, this opens up a wheel of fortune, and the number you spin on the wheel is the number of steps down the golden road your friendly leprechaun will take. The further he gets, the higher your multiplier. It worked perfectly well in the original, and it works just as well here!
The second, also making a comeback from the first game, is Pots of Gold. If you've been paying attention, you know how this works. It's a prize-picker round, and you have to select one from a range of potential pots, and whatever multiplier is in that becomes yours.
Next up, and new to the series, is a free spins feature. Rainbow Riches isn't tight with giving you free spins; you get ten for landing three scatters, twenty for four and thirty for five. Not only that, the first reel turns entirely wild for the duration of your spins, and the round can re-trigger if you find more scatters! It could, in theory, last forever, and the wild reel can make it generous.
Rainbow Riches Pick 'N' Mix Slot Features
The fourth bonus feature is more unusual. It's called 'Cash Crop', and it plays on the old adage that money doesn't grow on trees. It may really not grow on trees, but it does grow in fields in Rainbow Riches Pick 'N' Mix! In this bonus feature, a series of 50 spinning coins can land on the playing grid on either a blank space or one with a multiplier.
When all the coins stop spinning, the visible multipliers will be added to the potential prize amount. When you're done reaping the field, you can either Collect or try to go again by judging the spin of a coin and trying to work out which face it will stop on.
If you go again, all the possible cash prizes and multipliers are higher. Last up is the 'Magic Toadstool', which is another prize-picker. You can choose up to five of the toadstools on the field before you, each of which contains either a multiplier or a magic fairy.
The magic fairy will grant you the contents of a further three mushrooms, so you'll want to find a good balance between the two!
Rainbow Riches Pick 'N' Mix can be frustrating if you're not able to trigger the bonuses, so the slot offers you a boosted chance of doing so in Big Bet mode; for an increased stake, you can go straight to a wheel of fortune screen and try to trigger any of the bonuses by spinning the wheels.
The more you're willing to stake, the higher your chances of triggering your desired bonus. In this mode, RTP goes all the way up to 96% from the 94% starting point.
Rainbow Riches Reels Of Gold – (2016) – 94-96% RTP

Play Rainbow Riches Reels of Gold Now
A relatively new addition to UK online casinos. This slot follows the colourful Rainbow Riches theme and has a 5×4 and 5×12 layout. The side reel game is packed full of fun animations and a charming background of hills, forests and rainbows.
The difference with this version is that there is a new 'Colossal Reel', which gives players a chance to play for epic wins. Plus, the randomly triggered Fairy Bonus and Magic Bonus can make this game quite an experience! If you're looking for online casino slots where anything can happen at anytime then, this could be for you!
This sequel from 2016 takes the best aspects of the original title, and adds both features and layers of complexity to it, which can potentially reward slot gamers who prefer a more varied and challenging experience.
The field of play is expanded massively, taking place on two different five-reel sets, and offering up to one hundred paylines to chase after. There are even more icons of Irish folklore here, too; our friendly leprechaun is joined by horseshoes, harps, rainbows and toadstools. It can be quite an immersive experience.
If you're looking for free spins, then you'll want to try and collect balloons, and once you've landed some, you'll be given a chance to trade them in for potentially even more free spins, but the higher you aim, the harder it gets. But be careful, as you could lose them all!
If a purple fairy appears to cast a spell on your reels, then you're about to be awarded one of a staggering seven different bonus options. Barcrest's signature 'Big Bet' is also present within this title, offering five linked spins that can increase both the risk and potential reward each time.
If you love 'Rainbow Riches', you probably can't go wrong with this game.
Play Rainbow Riches Reels Of Gold Mobile Slot
If Pick 'N' Mix was about variety, then Reels of Gold was all about originality. This slot game bears almost no resemblance to the rest of the Rainbow Riches series; it's a much bigger and more complicated slot, which can challenge those who may feel more comfortable with the 5×3 layout of the other titles we've looked at so far to come and try something different.
It's another release from 2016; by putting two different Rainbow Riches sequels out in the same year, Barcrest were offering players variety. If they didn't like either option, they could always stick to the original game!
You probably won't spend much time admiring the background in Reels of Gold, because it's barely visible! This is a beautifully drawn and animated 3D slot, but it's all about the reels, and there are many of them.
To start with, on the left-hand side, we have a 5×4 set of reels and rows that you're in control of spinning; that's already a larger layout than players of the previous slots in the series will be used to. On the right-hand side is a further set of five reels, which have twelve rows!
With so much going on, and so many reels to keep an eye on, it's reassuring to know that there are up to 100 paying lines in this slot; with all the spinning going on, you'd like to think you stand a good chance of finding a few of them.
One of the advantages of having so many reels is that it allows the slot to be playful; if you're able to fill a reel on the left-hand side with the same symbol, the corresponding reel on the right hand side will also fill with the same symbol, giving you clone reels and enhanced winning chances.
In terms of bonuses, you can potentially land yourself with some free spins by collecting balloon symbols. Instead of outright giving you the free spins when you've won them, you choose to pop one of the balloons to find out how many free spins are hiding inside.
Depending on whether you like that number, you could also gamble it and try to win more in a mini-game, which can get harder if you're aiming for more balloons. In theory, you could possibly gamble your way up to 100 free spins.
Rainbow Riches Reels Of Gold Slot Features
There are further bonuses within Reels of Gold, but they're granted by the random appearance of the fairy who hovers across all of the Rainbow Riches slots.
She'll turn up when she feels like it, and use one of her magical powers to provide you with one of many perks, including possible stacked wilds, multipliers, or entry to the free spins bonus feature. So, you never know when she might decide to appear!
The Big Bet feature from the Pick N Mix slot is here, too, offering a RTP of up to 98%. A lot is going on in Reels of Gold. Some players love it; other players find it a little too busy.
If you do, that's fine; there are plenty of Rainbow Riches slots to choose from, and you'll most likely enjoy at least one of them!
Rainbow Riches Free Spins – (2016) – 95.17% RTP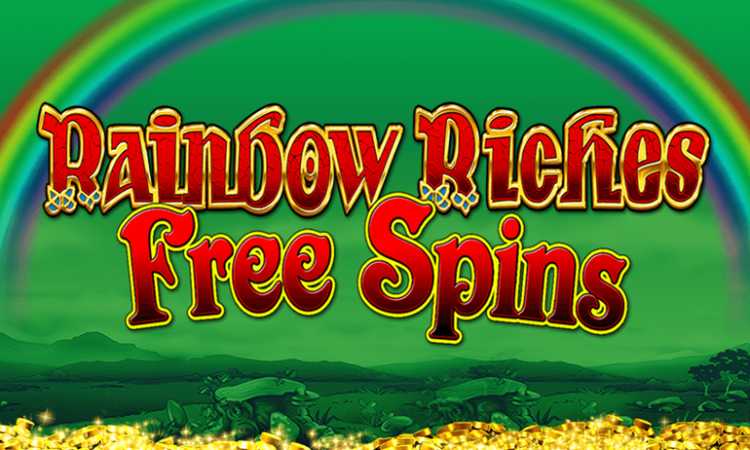 Play Rainbow Riches: Free Spins
The best UK online casino for Irish-themed slots. This version of Rainbow Riches is dedicated to the Free Spins Feature, which can trigger more often than in the original version of Rainbow Riches. Additional Free Spins can also be triggered in the bonus round game up to a maximum of 999 free spins. This Version has a RTP of 95.17%
Can you guess what sets this sequel out as different from the others? If you're struggling, there's a big clue in the title. 'Rainbow Riches: Free Spins' is back to five reels and three rows, but the number of standard paylines is down to ten. That's because this game, which still has the same fun and playful feel as the others, is all about the extra features.
Play Rainbow Riches Free Spins Mobile Slot
To up your chances of winning, the symbols have been stripped right back. In fact, there are only six, plus the 'Free Spins' bonus symbol and the wild. Suddenly those ten paylines look a lot easier to find.
If you're going to call a game 'Free Spins', you better come through on the statement, and this game definitely can. Five bonus spin symbols can land you a full twenty free spins, and if you can keep them appearing during the bonus round, you can carry on playing all the way up to 999 free spins.
A year after releasing the Pick N Mix and Slots of Gold entries in the franchise, Barcrest decided to go in the opposite direction with Rainbow Riches Free Spins.
You wouldn't win any prizes for guessing what the focus of this slot is, but you can potentially win plenty of prizes by playing it. If you can trigger the bonus feature, it has the chance to be very generous indeed!
Rainbow Riches Free Spins Slot Features
Rainbow Riches Free Spins doesn't just return to the simplicity of the first slot in the series; it surpasses it. Except for the ever-present leprechaun mascot to the left of the reels, this can be a very plain slot to look at.
You'll soon work out why, though; there are hardly any symbols on the reels at all. The whole point of this slot game is to try and get the bonus feature triggered, and if you do, all the fun can begin.
When the feature is triggered – which is done by landing three of the 'free spins' bonus symbols – you'll find two primary things to aim for. That's the free spins logo itself, and the slot's wild.
With only five other symbols to get in your way, your chances of finding one of the slot's ten paylines are pretty decent. Better than that, your chances of triggering the feature again by potentially finding more bonus symbols can also be good.
If the symbols keep landing where you want them to, you can keep triggering this round up to a maximum of 999 spins.
There isn't a lot more to say about Rainbow Riches Free Spins. But, if it sounds simple, it's because it is. The RTP is 95.17%, and you only need to worry about hitting the 'spin' button.
This is a slot you can just load up and play without having to apply much thought to it. However, some players may want more, and that's what the other slot games in the series are for.
Rainbow Riches Drops Of Gold – (2018)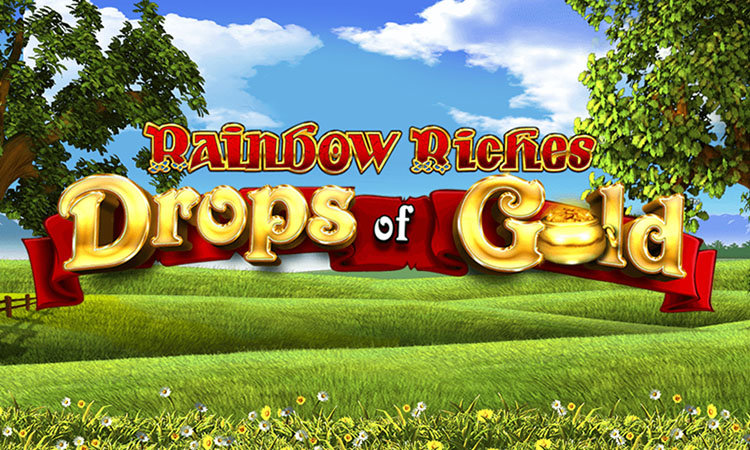 Play Rainbow Riches Drops of Gold
One of the latest releases from Barcrest in the Rainbow Riches series of Games – "Drops of Gold", has been a solid feature used in many UK online casino homepages.
This new version has a few differences, but it keeps true to the theme and the original graphics. There are, of course, leprechauns, but there is also a new feature, the 'Wild Stream', which can send a continuous stream of wild symbols onto the main reels during the game.
If you get the "Drops of Gold' symbol on the main reel, then all of the wild symbols from the above rainbow reels fall down into position, potentially making for big and exciting wins!
Play Rainbow Riches Drops Of Gold Mobile Slot
'Rainbow Riches: Drops of Gold' is one of the newer titles in the series, and the look and feel of the game has had a revamp for the HD era. It looks cleaner, sharper, and more sophisticated than its predecessors, but behind all the sparkle, the same great gaming engine is still there waiting for you. It may be five reels and three rows again, but this sequel is packing up to two hundred paylines!
There are two different wilds as well; one which can replace everything other than the bonus symbol, and another, depicting a gold pot, which can even substitute for the bonus!
Breaking with the tradition of the past, one of the bonus rounds still offers potential instant prizes instead of multipliers, and the 'free spins' and 'big bet' features are also here as a link to the past. This forward-thinking game brings 'Rainbow Riches' into the modern era.
There's a belief in cinema that a film franchise may get worse with each sequel. In the world of online gaming, the 'Rainbow Riches' franchise seems to be doing the exact opposite.
2018 saw another fresh entry into the Rainbow Riches series: the delightful Drops of Gold. When looking at this slot, you might think it's as complicated and involved as Slots of Gold, but it isn't.
Slots of Gold may look complicated because it generally is complicated. Drops of Gold looks complicated because there's something very clever going on with the reels.
Strictly speaking, this is just another 5×3 layout, but above the regular reels is a rainbow, which is spinning and turning, full of silver and golden pots of gold.
They're the slot's wild symbols, and if you release them, they'll fall out of the sky and land in the equivalent positions on the reels below.
They become active and can replace whatever symbols were there previously to create new potentially winning combinations. If you want to crack the rainbow open, a Drops of Gold symbol has to land anywhere on the fifth reel.
Rainbow Riches Drop Of Gold Slot Features
Aside from that Drops of Gold bonus, which is what gives this slot its name, there's also a free spins feature on offer. If unlocked, you only get eight spins to begin with, and there are no extra perks to the round, but it can trigger again if you find more bonus symbols whilst it's active.
Both of these bonus features are backed up by the now-familiar Big Bet option, which depending on your stake, may do many things for you. It can double the height of the Drops of Gold logo on row five, thus making the Drops of Gold bonus potentially easier to trigger, and it can also add more wilds into the rainbow, meaning that if it does split open and they all come pouring down, there are more possible winnings to be had for you. The RTP on this game can potentially go all the way up to 97.75%.
Drops of Gold may look much more complicated than it is; when you're used to the layout, you'll find it can be just as easy to play as the original slot is, but it has a 2018 lick of paint, some even more vibrant colours, and an ingenious bonus round. If you enjoyed the original, but find Pick 'N' Mix and Reels of Gold too much to deal with, you might want to try this one.
As you can see…
There can be something for everyone within the Rainbow Riches slots. Relatively simple or complicated, long or short, we've got a Rainbow Riches slot that may suit you. We can't wait to welcome you to Clover Casino to start playing, so hit the 'register' button up above!
*All values (Bet Levels, Maximum Wins etc.) mentioned in relation to these slot games are subject to change at any time.