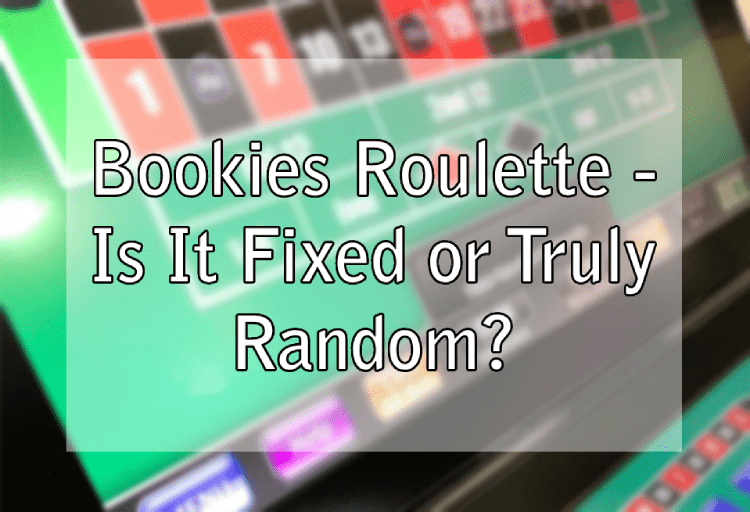 Roulette is not restricted to the confines of casinos only; it can also be found in bookmakers, or 'bookies' as they are commonly known. The question, however, that often arises is whether bookies roulette is genuinely random or fixed. 
This article addresses that question and delves into the intricacies of bookies roulette.
What Is Bookies Roulette?
To begin with, let's understand what bookies roulette is. Predominantly found in leading bookmakers such as Ladbrokes, William Hill, Betfred, and Paddy Power, bookies roulette is essentially a game played on a Fixed Odds Betting Terminal (FOBT). 
These are electronic machines that allow players to engage in computerised roulette for a pre-set maximum bet, offering fixed odds for payouts. 
The first bookies roulette machines appeared in 1999 and have since increased significantly in popularity.
Are Bookies Roulette Machines Fixed?
A common misconception among players is that bookies rig FOBT roulette machines. However, this is far from the truth. FOBT roulette machines operate using a Random Number Generator (RNG), a software that uses complex mathematical algorithms to ensure unpredictable outcomes. This software is built into the systems and is not under the control of the bookies.
In addition, these machines are certified and approved by the UK Gambling Commission (UKGC), ensuring that they undergo thorough inspections and tests before being played. This means that shop owners cannot rig the machines as they do not have access to the RNG and could lose their license if they attempt to manipulate them. 
Thus, rest assured, bookies roulette machines are not rigged - they are random games of chance like all other casino games.
Can You Win On Bookies Roulette?
Winning at bookies roulette is no different from winning at any other game of roulette. The outcome of each spin on a bookies roulette machine is completely random and determined by an RNG. The chances of any given number landing are the same for every spin, just like in any other roulette game.
However, understanding the different available bets and their odds of landing is crucial. For instance, a straight-up bet on a single number offers the highest payout (35:1) but has the lowest odds of winning. Conversely, bets on even/odd, high/low or red/black offer lower payouts (1:1) but cover more numbers, so they have a much higher chance of winning (just under 50%).
Bookies Roulette Strategy: Is There a Way To Win?
Even though roulette is a game of chance, some players adopt various strategies to see if they can improve their chances of winning. 
One such strategy is the Columns Strategy, which involves placing a bet worth 2 units on one column and a coverage bet of 1 unit on another column while leaving the 3rd column empty.
Another popular strategy is the Martingale strategy, which involves doubling your bet after every loss and returning to the initial amount after a win. 
However, these strategies do not affect the chances of winning in roulette. They offer alternative ways to structure your bets, but they don't lower or eliminate the house edge. The chances of the ball landing in any given pocket are the same, no matter how you place your bets. 
Also, the strategies can become quite expensive quite quickly if they are progressive like the Martingale. So, please gamble responsibly, and never bet money you can't afford to lose.
Are Bookies Roulette Machines Worth It?
In conclusion, bookies roulette machines offer the same odds as regular roulette and operate using an RNG to ensure randomness and fairness. The house edge is fixed and cannot be affected no matter what the player does, further ensuring fairness for both parties.
Whether playing bookies roulette machines is worth it is down to personal preference. It simply offers another way to play roulette. 
However, like with any form of gambling, it is always important to play responsibly. 
---
*All values (Bet Levels, Maximum Wins, etc.) mentioned in relation to this game are subject to change at any time. Game features mentioned may not be available in some jurisdictions.