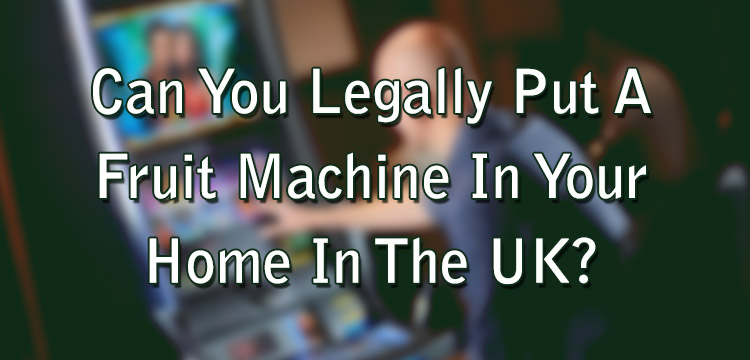 Slot machines, also known as fruit machines, have long been a popular form of gambling in the UK. They're a common sight in pubs and casinos. Nevertheless, the question often arises: Is it legal to own a fruit machine at your residence in the UK? 
The simple answer is yes. You can legally own a fruit machine in your own home in the UK. We will discuss this further below.
Do You Require A Licence If You Want To Put A Fruit Machine In Your Home?
While pubs, casinos, and other public spaces must acquire a licence for their slot machines, the rules are somewhat different for private households. If you don't intend to run a business but want to own, sell, repair, or maintain a fruit machine, you can apply for a Single Machine Permit from the UK Gambling Commission.
The Single Machine Permit is available at a reasonable cost. However, if you plan to run a business, you must apply for a full gaming machine technical operating licence.
For those who simply wish to enjoy their fruit machine at home, no licence is required. If you own a fruit machine without a licence, it is strictly for personal use. But, if you bought a slot machine intending to have family and friends play with real money, you'd need to apply for the Single Machine Permit mentioned earlier.
Is A Slot Machine Expensive?
The cost of a slot machine varies greatly depending on several factors. The price can range from about £50 to £1,000. The lower-priced machines are often refurbished models, which may still be functional but have seen better days.
Conversely, more expensive machines are usually in better condition, being newer and less likely to malfunction. Plus, if they do break down, parts are usually cheaper to replace. Therefore, whether a slot machine is expensive or not is subjective and depends on the buyer's budget and preferences.
Where Do You Buy Slot Machines?
There are several places you can buy fruit machines. Websites like eBay and Gumtree are popular platforms for purchasing secondhand slot machines. If buying secondhand slot machines, it's essential to check the seller's reputation and consider potential repair costs.
If you prefer to buy a fruit machine that's been fully refurbished and is in good working condition, there are several websites available. Even though the price point may be slightly higher, you're paying for better quality. Many of these websites also offer warranties for peace of mind.
Which Slot Machines Are Most Popular?
If you are looking to buy a fruit machine, you might find it challenging to choose one. Here are some of the most popular slot machines that people own:
Deal or No Deal Fruit Machine
The Deal or No Deal fruit machine, based on the popular TV show, is a favourite among many. This 5-reel slot offers exciting bonus rounds and a format that closely resembles the TV show.
Cops & Robbers Fruit Machine
The Cops & Robbers fruit machine is a colourful game with exciting bonus features. One of the main features is the fruit ladder. If a fruit symbol appears on a winning line, it's added to the fruit ladder. You could trigger the mega streak feature if you reach the top of the fruit ladder.
Double Top Fruit Machine
The Double Top is a popular fruit machine. This retro fruit slot features classic fruit symbols like plums, oranges, and watermelons. It's an excellent choice if you prefer more straightforward gameplay.
How Can You Play Classic Fruit Machine Games Online?
If you don't own a fruit machine, you can still play them online. Online casinos like Clover Casino offer a vast array of exciting fruit machine slots. 
You can try popular slots like Big Bass Splash and Starburst, as well as a range of online slot games that resemble the classic fruit machines of old. Click the Join Now button at the top of the page and follow the steps to create an account.
*All values (Bet Levels, Maximum Wins, etc.) mentioned in relation to these slot games are subject to change at any time. Game features mentioned may not be available in some jurisdictions.