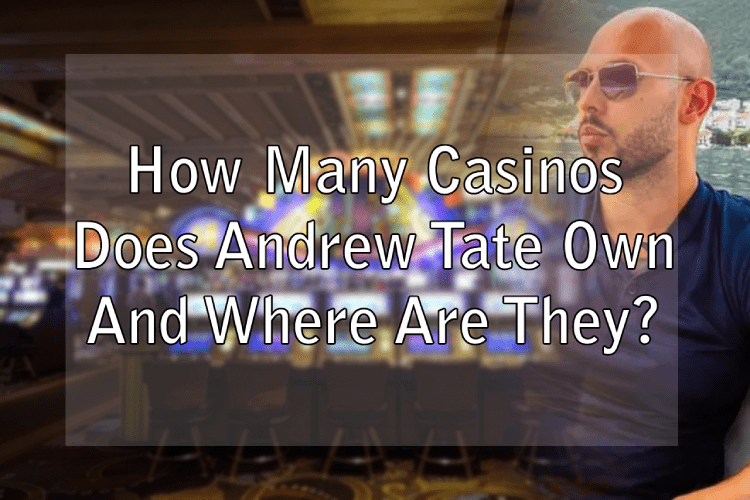 Andrew Tate is a name surrounded by both luxury and controversy. He has made a name for himself in several fields, from kickboxing to entrepreneurship. Notably, he's made significant strides in the gambling industry, owning a chain of casinos in Romania. This article delves into the question: How many casinos does Andrew Tate own, and where are they?
Andrew Tate Overview
Andrew Tate is an American-British multifaceted personality, well-known for his accomplishments in the field of kickboxing. As a four-time world champion, he's held the WBA, IBO, and WBC international super middleweight titles. Besides his sporting prowess, Tate is also recognised as an internet personality, social media influencer, and a successful entrepreneur.
His entrepreneurial journey spans various business models, including a global community of entrepreneurs known as 'The War Room', a clothing and supplements venture named 'Top G', an advertising company called 'T2 Television', and managing models on the OnlyFans platform. He has also been the subject of controversy for his outspoken and unapologetic opinions. 
However, it's his casino investments that are of particular interest to us today, which are believed to contribute significantly to his wealth.
Casinos Owned By Andrew Tate
Andrew's venture into the casino industry was not a random occurrence but a strategic move. He encountered a casino owner at a Romanian cage fighting match and was intrigued by the potential of the gambling industry. With a vision to diversify his income streams, he proposed a franchise model to the casino owner, aiming to launch casinos under the Tate brothers' brand.
This venture took off almost instantaneously. Andrew's unique strategy of offering free coffee in his casinos proved to be a stroke of genius. This innovative approach distinguished his establishments from the competition in Romania and significantly boosted his customer base and earnings.
Where Are Andrew Tate's Casinos?
Andrew's casinos are primarily located in Romania, where he's apparently established more than a dozen locations. 
Additionally, Andrew has invested in the world of online gambling. He owns an online crypto casino, which he claims has generated a tenfold return on his investment.
How Many Casinos Does Andrew Tate Own In Total?
If Andrew's claims are to be believed, he owns a staggering 15 casinos across Romania. Each of these establishments is said to generate around a million dollars per month, contributing significantly to his wealth. This impressive portfolio of casinos, if accurate, testifies to his business acumen and strategic thinking.
However, it's essential to note that these figures are based on Andrew's own statements, and there's currently no independent verification of his earnings.
Play Casino Games Online At Clover Casino
Fortunately, you don't have to travel all the way to Romania to play casino games. You can enjoy a variety of fantastic slots and casino games online at Clover Casino.
Clover Casino offers an extensive range of online slots, with themes ranging from ancient Egypt to outer space. Moreover, the casino offers a multitude of slots with different bonus features and mechanics, including Megaways, Scatter Pays, Hold and Win, Cluster Pays, and Progressive Jackpots.
In addition to slots, Clover Casino also offers classic casino games such as blackjack, roulette, and baccarat. You can even experience live casino games on our site, too.
To get started, simply click the 'Join Now' button and follow the steps to create an account with Clover Casino today.